Description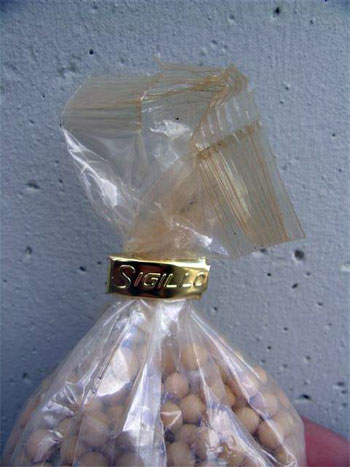 These seals can be used to identify and guarantee the quality control of individual packs. They are easily applied and sealed by hand.
SIZE
Width: 10 mm (0″ 25⁄64")
Length: 55 mm (open) (2″ 11⁄64")
Length: 27 mm (closed) (1″ 1⁄16")
MATERIAL
Shiny galvanised steel
Brass plated steel
COLOURS

CUSTOMISATION
– The seal can be printed in relief with the wording "Sigillo di sicurezza" security seal, company/factory logo, the CEE mark or other relevant information.
PACKING
2.000 per carton (minimum order quantity)
Carton size: 28x16x22 cm (11″ 1⁄32" x 6″ 19⁄64" x 8″ 21⁄32")
Cartone weight: 2,7 kgs (5lb)
---
RELATED PRODUCTS