Description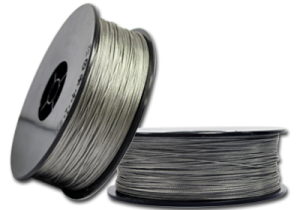 The stainless steel sealing wire may be needed because it doesn't become oxidised and remains unaltered for a long time.
This sealing wire has a diameter of 1mm and it is composed by a central wire of 0.5mm and a second wire of 0.3mm diameter that goes round it.
It is suitable for all wire seals and in those cases where an above-average sturdiness is required.
We generally supply stainless steel sealing wire in various reels weight and in parts which vary from 10 to 150 cm long.
MATERIAL CLASSIFACTION
Annealed steel AISI 304
COLOURS


CHEMICAL BREAKDOWN
| | | | | | | |
| --- | --- | --- | --- | --- | --- | --- |
| C % | Mn % | Si % | Ni % | Cr % | P % | S % |
| < = 0.08 | < = 2.00 | < = 1.00 | 8.00 – 10.50 | 18.00 – 20.00 | < = 0.045 | < = 0.030 |
COMPOSITION
Core wire: Ø mm 0.50 – Spiral wire: Ø mm 0.30
MECHANICAL CARACHTERISTICS
TOTAL DIAMETER /  BREAKING LOAD
| | | |
| --- | --- | --- |
| STANDARD DIAMETER mm | TOLLERANCE Ø | BREAKING LOAD N/mm² |
| 1.00 | 10 % | 700/770 |
STRENGTH PER METRE: 2,45g (1 Kg = 400 m ca)
STRUCTURAL CARACTHERISTICS
COIL DISTANCE: 2.00 mm  (50 coils per 100 mm)
SURFACE CARACHTERISTICS
SURFACE SATE: GLOSS
---
RELATED PRODUCTS