Description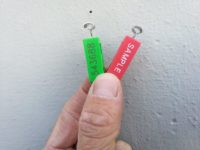 Triton seal is a wire seal which can be used in various situations.
Once the sealing wire is inserted in the appropriate holes, push down the "guillotine mechanism" to lock the seal.
The sealing wire used for seals cannot be pulled out again and any tampering attempts will turn out to be evident.
Triton Seal is usually designed for gas and water meters but it can also be used to seal tanks or for the refinery sector.
This wire seal may be used with any types of sealing wire : galvanized, stainless steel, brass or copper.
The sealing wire is generally supplied separately from the seal. Therefore, it can be purchased both in reels and in pre-cut parts.
The customisation is done on one side, while on the other one a sequential numbering is carved.
On these seals, it is possible to print both in hot print and with a laser beam.
TECHNICAL DRAWING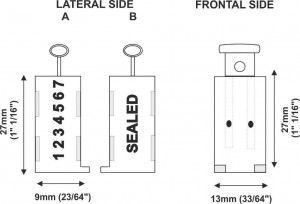 SIZE
Width: 9 mm (0″ 23⁄64")
Length: 13 mm (0"33⁄64")
Heght: 27 mm (1" 1⁄16")
MATERIAL
ABS
POM (acetal)
COLOURS

SEQUENTIAL NUMBERING AND CUSTOMISATION
– HOT PRINT
– Sequenced numbering up to 7 digits
– Customised up to 20 characters on one line
– Logos available upon request
PACKAGING
1000 pcs per carton
Carton size: 56x33x24 cm (22″ 3⁄64" x 12″ 63⁄64" x 9″ 29⁄64")
Cartone weight: 5 kgs (11lb)
SHIPPED WITH 20CM (7/8″) OF GALVANIZED WIRE (PRECUTTED PER PIECE)
---
RELATED PRODCUTS