(April 2014) Mr. Luciano Grapsa – CEO and President LEGHORNGROUP
The theft of goods in transit from the origin to the final destination has always been of great importance, since in addition to the damage caused by the missing goods all sorts of collateral damage are added such as the interruption of the supply chain, or the identification of the responsibility for the theft.
The worldwide losses in relation to the theft of goods are also difficult to quantify because the system for quantification of the damage is not always classified in the same way.
According to some observers, this kind of losses are around 30 trillion dollars a year. To this figure the indirect costs arising from theft must be added such as the time required to replace the stolen product; loss of sales; Company's loss of image, which still does not timely deliver.
Another serious consideration is related to the theft of goods such as tobacco, alcohol or pharmaceutical products.
In this field in addition to the damage already mentioned it must be added the risk of product sales to minors or any other person considered unsuitable to the use of potentially harmful products.
Organized crime has the ability to move with great speed and in a few hours can repackage the stolen goods, fill new cargo manifests and reload it on another vehicle
All this even before the theft is reported and that law enforcement officials start to move. Added to this is a low risk of being detected and identified, if apprehended.
How to stem this?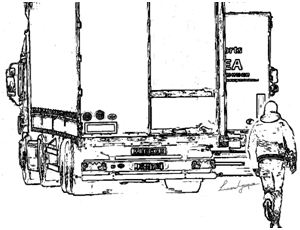 Technology alone is not the magic wand that can defeat the theft of goods. An effective security system must be well planned and must include geo localization systems, electronic seals and highly trained personnel.
GPS systems greatly improve for instance the recovery of the stolen vehicle and can deter less experienced criminals.
The electronic seals can warn you if they are tampered with and as a result they give you the opportunity to intervene almost immediately. There are now on the market electronic seals that are activated only at the time of their closure and, if tampered with or removed from their position, they warn you with a SMS message.
These security products are a valid response against theft of goods during transport.
Just finished to load the goods, the truck must be immediately sealed and the seal number listed on the appropriate documents.
The closure of the seal must be carried by trusted staff and rechecked at least a second time, trying to force it with your fingers.
.All commercial LeghornGroup technical staff is at your disposal to clarify any doubts and to help you choose the most appropriate security seal for your shipments.